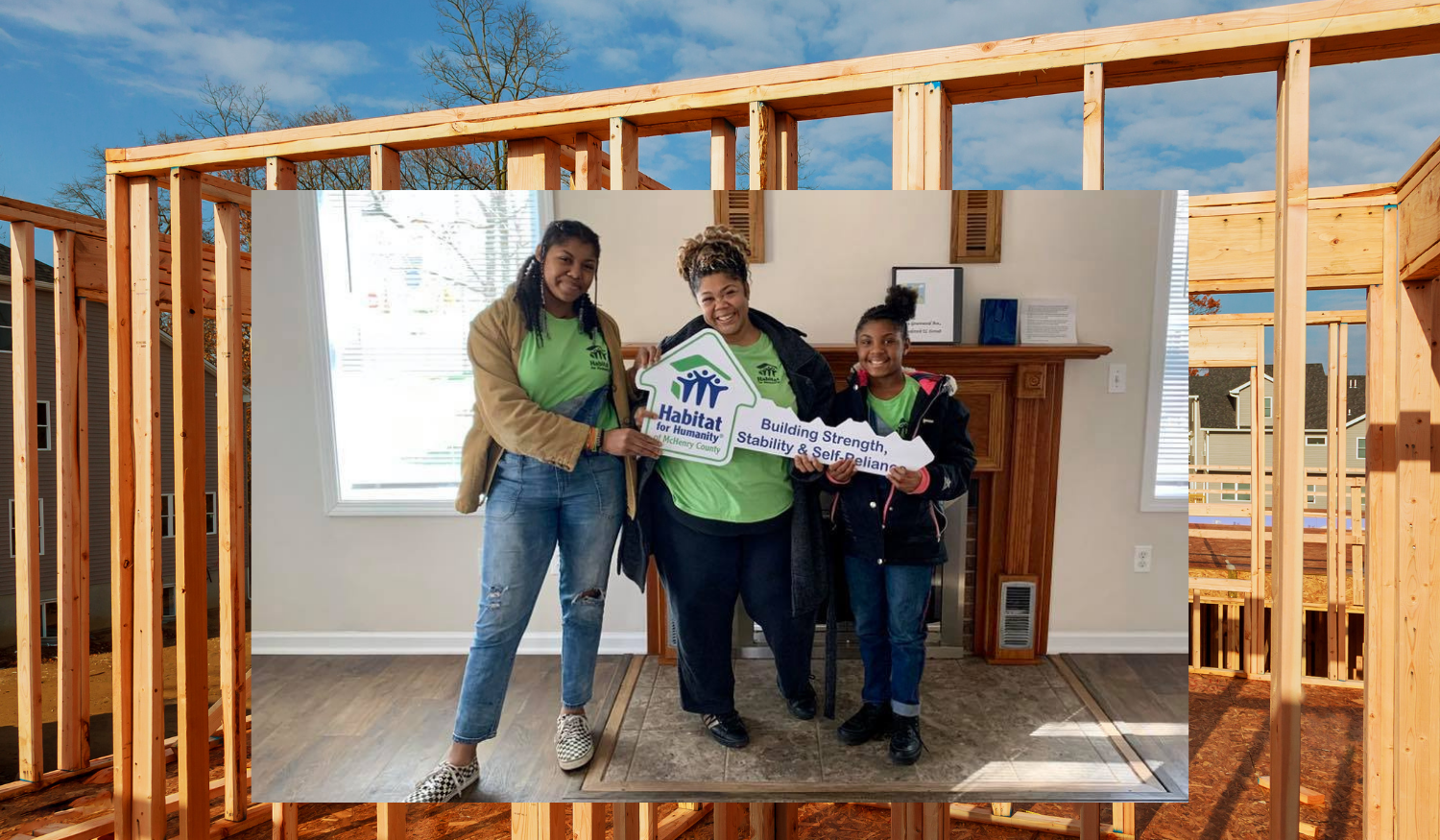 Habitat McHenry County strives to make homeownership affordable for more families. We provide a hand up, not a hand-out. Meaning we're in active partnership with homebuyers in our program to build and purchase an affordable home.
Habitat for Humanity Homeownership Program
Habitat for Humanity is a home ownership program empowering families to build a new life for themselves through the stability and security of owning their own home. Habitat homes are not given away but are sold to families who qualify and are willing to make a down payment, put in sweat equity labor, and can make a monthly mortgage payment. Habitat homes are affordable because Habitat does not make a profit on construction, the families pay an affordable mortgage and the homes are built with volunteers. 
Click below to enter your contact information and be notified when our next application cycle will open. 
Homeownership Program Eligibility Criteria
In order to qualify for our program, applicants must be able to, at minimum, afford 40 percent of the appraised value of a Habitat home. We've determined this income sets future homeowners up for success with a solid financial foundation and less vulnerability to financial challenges, including rising cost of living. This can contribute to long-term stability and successful homeownership. 
Habitat's eligibility is based on consideration of the following criteria:
Cost-burdened housing; paying more than 30% of gross monthly income on rent.
Overcrowded: Size is inadequate for the present or anticipated residents.
Unsafe, unsanitary living conditions or located in a particularly unsafe area.
Gross household income below 80% of the area median income (AMI) for McHenry County.
2. Willingness to Partner with Habitat
Submit all requested documentation and/or information in a timely manner.
Complete pre-purchase financial education.
Schedule and complete sweat equity volunteer hours.
Attend all classes and meetings.
Display open and truthful communication with Habitat.
3. Ability to Pay an Affordable Mortgage
Stable and consistent source of income.

Income can come from various sources, including employment, government assistance, pensions or other sources if it is verifiable, reliable and expected to continue for three (3) years.

Satisfactory credit history with FICO score over 620 by time of closing.
Qualify and obtain a mortgage no more than 30% of gross income through a third-party lender.
Able to save a minimum of $3,000 to cover a percentage of closing costs, first year of homeowners insurance and earnest payment.
No outstanding liens or judgments.
Bankruptcy – minimum of two years since discharge, with good payment history.
Monthly debt payments no more than 13% of gross monthly income. 

Calculation = Monthly debts/Gross monthly income (pretax.) Debt to consider: credit cards, car loans, student loans, child support, alimony, etc.  Does not include monthly utility payments.

Applicant(s) must be U.S. Citizen or Permanent Resident.
Disclaimer: Habitat for Humanity of McHenry County is committed to affirmatively furthering Fair Housing. We do business in accordance with Federal and State fair housing laws. We are pledged to the letter and spirit of the U.S. policy for the achievement of equal housing opportunity throughout the nation. We encourage and support an affirmative advertising and marketing program in which there are no barriers to obtaining housing because of race, color, religion, sex, sexual orientation, gender identity, handicap, familial status, or national origin.